Author
A Little About Me
I am a California native, and have lived in New Mexico with my husband and family of animals for almost 30 years. That's my quick 'n easy "biography." But what's more interesting to me—and perhaps you as well—is a brief look at the bigger and deeper picture of my 65 years on the planet.
To get an overview of my life I sometimes like to imagine how I will feel as I am near departure from this earthly place. Do I feel that I have fulfilled my life's purpose? What am I most proud of? Those are big questions but I can say I'm especially glad that I have taken risks, that I have followed my heart, and followed inspirations even if they seemed far-fetched. These characteristics have led me to engage in extremely rewarding and engrossing work: in politics, as a congressional aide; in business, as co-founder of a restaurant and education center; in the arts as an author, painter, printer and publisher. My most memorable experiences, without a doubt, are the two bike trip adventures, which are recounted in my two books.
While my particular spiritual journey turns out to be intimately connected with Christ and Christianity, I consider myself a spiritually independent Christian. There are many paths to our spiritual homes, and many names for God (I'm not out to convert anyone!) and I have been, and continue to be, guided and inspired by the wisdom teachings of many spiritual traditions. My most significant teachers are… Thomas Merton, Marion Woodman, M. Scott Peck, Robert Johnson, Paramahansa Yogananda, Ram Dass, Tessa Bielecki, Paul Tillich, Pema Chodron, Fr. Thomas Keating, Neil Douglas-Klotz, Thich Nhat Hanh, Byron Katie, and others, as well as wonderful people who do not make teaching their profession.
This poem from Walt Whitman expresses my deep reality:
Sail forth—steer for deep waters only,
Reckless, O soul, exploring, I with Thee, and Thou with me,
For we are bound where mariner has not yet dared to go,
And we will risk the ship, ourselves and all.
O my brave soul!
O farther, farther sail
O daring joy, but safe! Are they not all the seas of God?
O farther, farther, farther sail!
Exploring the inner life is a kind of vocation for me. This website is part of that journey.
I hope you will join me.
The Books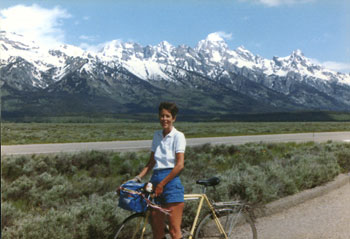 My search for God became a full-blown, inner wildfire of longing after a nighttime dream of God coming to me when I was 30.
Bicycling Home, My Journey to Find God
, was not written as a sequel to
Across America on the Yellow Brick Road
—they stand alone—but it is definitely a continuation of my inner journey. Both tell of inner discoveries and outer travels as I ride my bikes—Little Silver and Sunny—across the country. And, like most personal stories, the ending marks another beginning.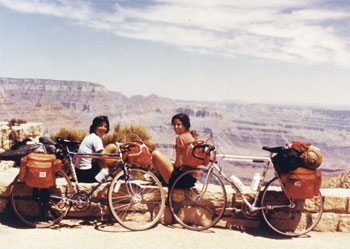 When I got a postcard from a geeky friend who was cycling alone across the entire United States I was totally inspired and smitten with the idea that "If he can do it, so can I." Little did I know that a few years later I would set out on my Yellow Brick Road on an unforgettable journey.
Go to
Bicycling Home, My Journey to Find God
Go to
Across America on the Yellow Brick Road