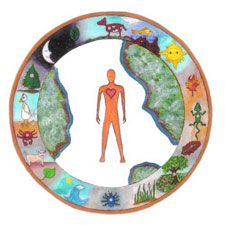 Resources for Inspired Action ~
There is a vast array of excellent websites, videos, books, and magazines advocating and creating a world that works for all of us, including, and especially, the earth. Here are a few of my favorites.
WEBSITES
YES! Magazine
will always deliver "powerful ideas and practical action" for creating a positive and possible future!
The Optimist Daily
This online journal brings you great stories of change and innovations 5 days a week. It's a great way to start your day!
The Small Planet Institute
is the creation of Frances Moore Lappé and Anna Blythe Lappé. It's mission is to support the restoration and development of true democracy, and to advocate for a sustainable planet future. Frances Moore Lappé is the author of the classic book, Diet for a Small Planet confronting the truth about food and hunger. She's never stopped shedding light on what needs to change!
The Network of Spiritual Progressives
seeks to build a caring society with a "New Bottom Line" based on generosity, sustainability and peace. It was founded by Rabbi Michael Lerner and leads the way to necessary change.
The Shift Network
sponsored two excellent events:"The Summer of Peace 2015," and "The Politics of Love and Justice," a series of phone interviews with leading activists, teachers, and thoughtful people on a variety of current topics. You can register and listen to these free audio recordings. It's a vast site so the easiest way to find these programs is to Search in Support. Very worthwhile listening!
Local Futures
is an international alliance which has been advocating for the development of local, sustainable economies, and systemic change for over four decades. In Events / New York, US 2014 / Video you can see a variety of video presentations on economic and environmental issues.
The Next System Project
: In a concise and explicit series of essays entitled "Getting to the Next System," Gus Speth outlines "Guideposts on the Way to a New Political Economy." It is excellent! You can download these essays free. Also, there is a short video that describes the work of this group, and how we can all be involved. In the co-founder's words, "If we are to escape the crises now unfolding all around us, we must create a new system of political economy where outcomes that are truly sustainable, equitable, and democratic are commonplace. This is certainly one of the most important tasks any of us can engage in at this moment in history."
BOOKS AND PERIODICALS
Creating a World That Works For All
, Sharif Abdullah
Getting a Grip2
, Frances Moore Lappé
Getting to the Next System, Guideposts on the Way to a New Political Economy
, Gus Speth (download from
The Next System Project
)
Yes! magazine
Tikkun magazine