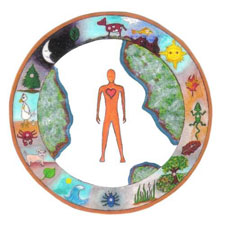 What's Inspired Action?
Inspired action is anything that brings us closer to a world that works for all.
It's taking action that brings more meaning, agency, caring and connection into our lives and the lives of our worldwide human community.
Creating a world that works for all (which happens to be the title of an excellent book by Sharif Abdullah) beautifully captures the essence, the passion, and deep motivation of people who are making the world a better place for all beings and the earth. Whether it be working for economic and social justice, climate change policy, renewable energy development, true democracy (get money out of politics!), restoring ecological habitat and environmental health, relieving hunger, poverty, or homelessness, people are relieving suffering and making change! And it's now clear, the system has to change!
We know all too well the crises and problems we are facing on this planet in what Joanna Macy calls "The Great Turning," a time of transition. We know we can't keep going the way we are; we have to change course, and soon. So rather than list our problems, I want to list at least a few of the qualities and situations that we are striving to bring into our world, a vision, a worldview, so that we focus on what we want, even while we are very aware of what's not working.
The world we want for all—A Caring Society
Basic needs met (food, shelter, clothing, health care, education and employment)
Economic and social justice
A healthy, sustainable environment
Equal voice in governance
Opportunities and freedom
Security
A life of meaning and purpose
Dignity and respect
Compassion, generosity, and care
*Get more ideas and inspiration for inspired action in the Resource and Blog sections here, and in my
Reflection about Activism.
We CAN bring this dream of a world that works for all into reality!