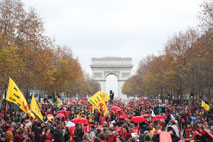 Hot Topics ~ Call to Action
TPP and related trade deals
The Trans Pacific Partnership Agreement constitutes a global corporate coup. It has been described as NAFTA on steroids. American jobs will again for overseas to cheaper labor. The TPP allows corporations to actually sue US communities and states if their laws (environmental restrictions, for example) infringe on maximizing corporate profits.
The TPP is a corporate power grab that impacts every aspect of people's lives. If passed, it would take away environmental and food safety protections, increase US development of fracked gas and tar sands for export, lower wages and worker protections around the world, increase human trafficking, end what we have left of internet freedom, inhibit access to lifesaving medicine by extending patent rights to big pharmaceutical companies, spur further financial deregulation, increase land grabs of indigenous territory, and more.
As of October 5 negotiators reached agreement, but that does not mean the process is complete. TPP is not a done deal until it is signed by heads of each country and their respective legislatures agree to it. In the United States, both the House and Senate will have to vote on the TPP after a 60-day period of review during which the public is supposed to have access to the text of the agreement.There is widespread opposition to this agreement. Everyone needs to participate.
WHAT YOU CAN DO
TPP Alert:
President Obama and other leaders signed the TPP agreement on February 4th in New Zealand. Once the TPP is signed, it will still need to be ratified in each country within two years. 1,500 organizations in the US representing a broad spectrum of people concerned about social and environmental justice have voiced their opposition to this deal. This is the time and circumstance where we can stop the corporate globalization juggernaut!
It is expected that President Obama will wait until after the election to ask Congress to ratify the agreement. At that time many members who will not be returning to Congress will ignore constituent protests and be willing to vote yes. As of this date (April 18) Obama does not have enough votes in Congress.
Contact your Congressperson at 202-224-3121. Tell him or her to Vote NO on the TPP!
Keep current with news and actions by getting email updates:
Flush the TPP
Public Citizen
Climate Change
On December 12 190 nations came together in an "historical world event" to agree to cut carbon emissions and greenhouse gases to limit global warming and climate change. And while it may not have gone far enough according to climate scientists, it was "a colossal achievement" and a "turning point in human history." Had it not been for hundreds of thousands of people engaged in marches, protests, petitions, phone calls and emails to our leaders, this would likely not have happened. It is a beginning and we must continue the work of holding leaders to their promises. There are still many climate deniers in leadership positions whom we must get on board the program!
The Guardian
has a good article on the agreement.
But we mustn't kid ourselves that this solves the problem. Many say this agreement doesn't go nearly far enough to stave off climate-related catastrophes. Others contend that without getting money out of politics the agreement will fail to produce results. In this article in
The Atlantic
experts in many fields offer their reasons for optimism and pessimism for 2016. Clearly the real work is ahead of us. As 350.org says, we're now "on the road
through
Paris." Let's get going! Here are some
guidelines
for choices we can make that affect climate change.
"WHEN THE PEOPLE LEAD, THE LEADERS FOLLOW." Gandhi
Let's keep on leading.
WHAT YOU CAN DO
Stay tuned in to these organizations and see how you can participate in making the Agreement a reality.
350.org
The Climate Reality Project