A POLITICAL CALL TO ARMS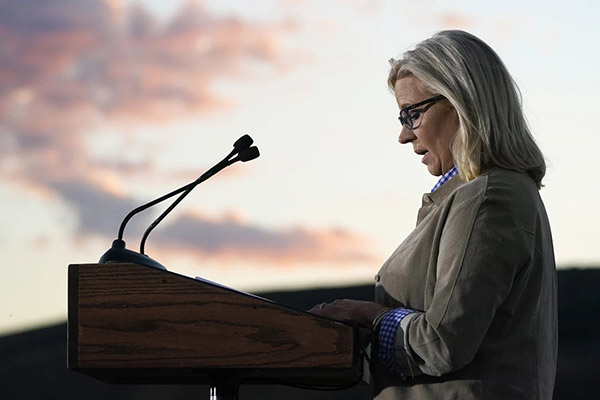 Democracy is on the ballot! Congresswoman Liz Cheney (R-Wyo) lost her primary election in August. I quote from her speech because she, and others, capture what's at stake to save our democracy.

Cheney says, "This is not a game. Every one of us must be committed to the eternal defense of this miraculous experiment called America and at the heart of our democratic process—our elections. They are the foundational principle of our Constitution."

"No American should support election deniers for any position of genuine responsibility, where their refusal to follow the rule of law will corrupt our future."

"No citizen of this republic is a bystander. All of us have an obligation to understand what actually happened. We cannot abandon the truth and remain a free nation."

"This is a fight for all of us together. I'm a conservative Republican. I believe deeply in the principles and the ideals on which my party was founded. I love its history. And I love what our party has stood for. But I love my country more.

So, I ask you tonight, let us resolve that we will stand together—Republicans, Democrats and Independents—against those who would destroy our republic. They are angry and they are determined, but they have not seen anything like the power of Americans united in defense of our Constitution and committed to the cause of freedom. There is no greater power on this earth."

From Bruce Berlin, author of The Struggle for the Soul of America, "While many Americans are fighting to maintain the democratic principles upon which the country was established, others wish to turn the United States into an autocracy, ruled by Donald Trump and his white supremacist, MAGA followers.

"And they appear to be willing to do whatever it takes to make that happen. Be it storming the Capitol, suppressing the vote, rigging the elections, stacking the Supreme Court, or whatever else they can fabricate.

"We are the only ones who stand in their way. It is up to all of us who still believe in democracy to make sure they fail. Despite what you may think of President Biden and the Democrats, they are our only hope of preserving some semblance of democracy in America."

From Dan Rather: "It is time to build a world, here in the U.S. and beyond, that recognizes what we can be. With that in mind, we can all concentrate on our hopes, not our fears: our hopes that Putin and his enablers will be taught a lesson that autocrats and would-be autocrats should all hear with clarity — the future is not yours."

WHAT'S MOST IMPORTANT IS THAT WE NOT ONLY VOTE, BUT WE HELP OTHERS VOTE. TURNOUT ON NOVEMBER 8 IS CRITICAL TO PRESERVING A DEMOCRATIC CONGRESS, THE RULE OF LAW AND OUR DEMOCRACY.
Back to Blog